Boost Your Staff Performance With Gamification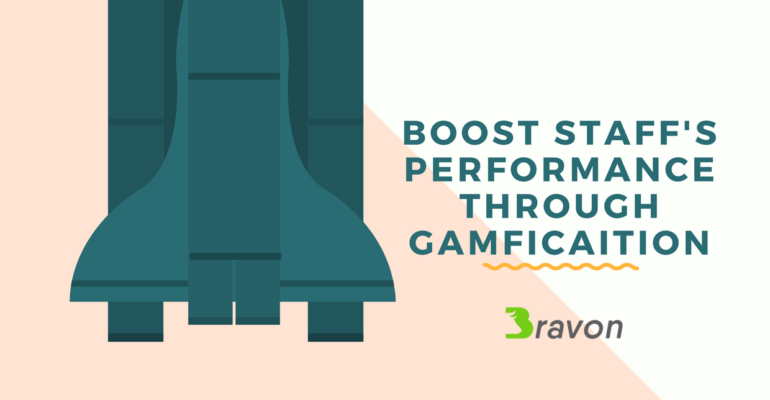 Boost Your Staff Performance With Gamification
Less than one-third of all employees in the U.S. are engaged in their work. Instead of being ready to solve problems and be more productive, most people go to work within a dull-minded state, not willing to do what is necessary to boost company income and productivity.
How can companies turn this around and increase their staff's productivity at work?
Game-based motivation. We have discussed motivation and how gamification works to produce it if you would like to know more about this subject you can grab our completely free e-book here. Exactly how can you use a game environment to increase staff productivity? – Trough competition, performance rewards, and status recognition.
This not only makes them more productive but also engaged in their work.
According to an independent survey, 82% of the top global organizations are using gamification to improve performance and boost awareness of co-worker's goals and tasks for 86%.
While the gamification of performance reviews, may seem like a simple plug and play (buy the software and watch it work), you have to take into account that employees need to buy into it first.
If you're looking to apply gamification to your performance reviews, here are five simple steps to help you get started.
Use measurable goals – encourage specific behaviors. If you want your employees to learn about your products or services, give them awards for attending that free product webinar.
Focus on things employees already want to do – The best way to get buy-in for any gamification of your performance appraisals is to reward employees for a behavior that's already happening. Are some salespeople hitting 50 outbound calls in a day while others are not? Maybe try rewarding those hitting 50 with a badge and see if it pushes those other salespeople to move from 40-45 outbound calls to hit that big 50.
Measure the change in performance – before you implement any gamification to your employee performance, make sure to create a baseline to measure the increase (or decrease) in performance.
Reward incremental progress – Don't focus only on big accomplishments. Every project will involve multiple steps and milestones. So, try rewarding your employees for making incremental progress towards the overall goal to encourage development.
Want to get the most out of gamification? Make it Social! – Using gamification is meant to encourage employees to give each other public accolades, so promoting it through an open environment will allow employees to share their accomplishments and badges to provide them with more bragging rights for their achievements. By publicizing accomplishments, other employees are driven to try harder to collaborate more efficiently to get more badges.
Overall, the gamification of performance reviews can help increase your employee's engagement and motivation.
Allowing you to have your employees strive harder to unlock new badges and receive more accolades for their hard work.
By using gamification, you change the employee review process by adding a fun game-like element that also lets you track actual performance and collect more information regarding your employees' actual performance than from the standard 180 or 360-degree performance review.