Boost Performance
Boost Performance
Applying game mechanics to sales or technical tasks to motivate and engage teams or customers, boost performance, increase competition between users, and improve more positive behaviour.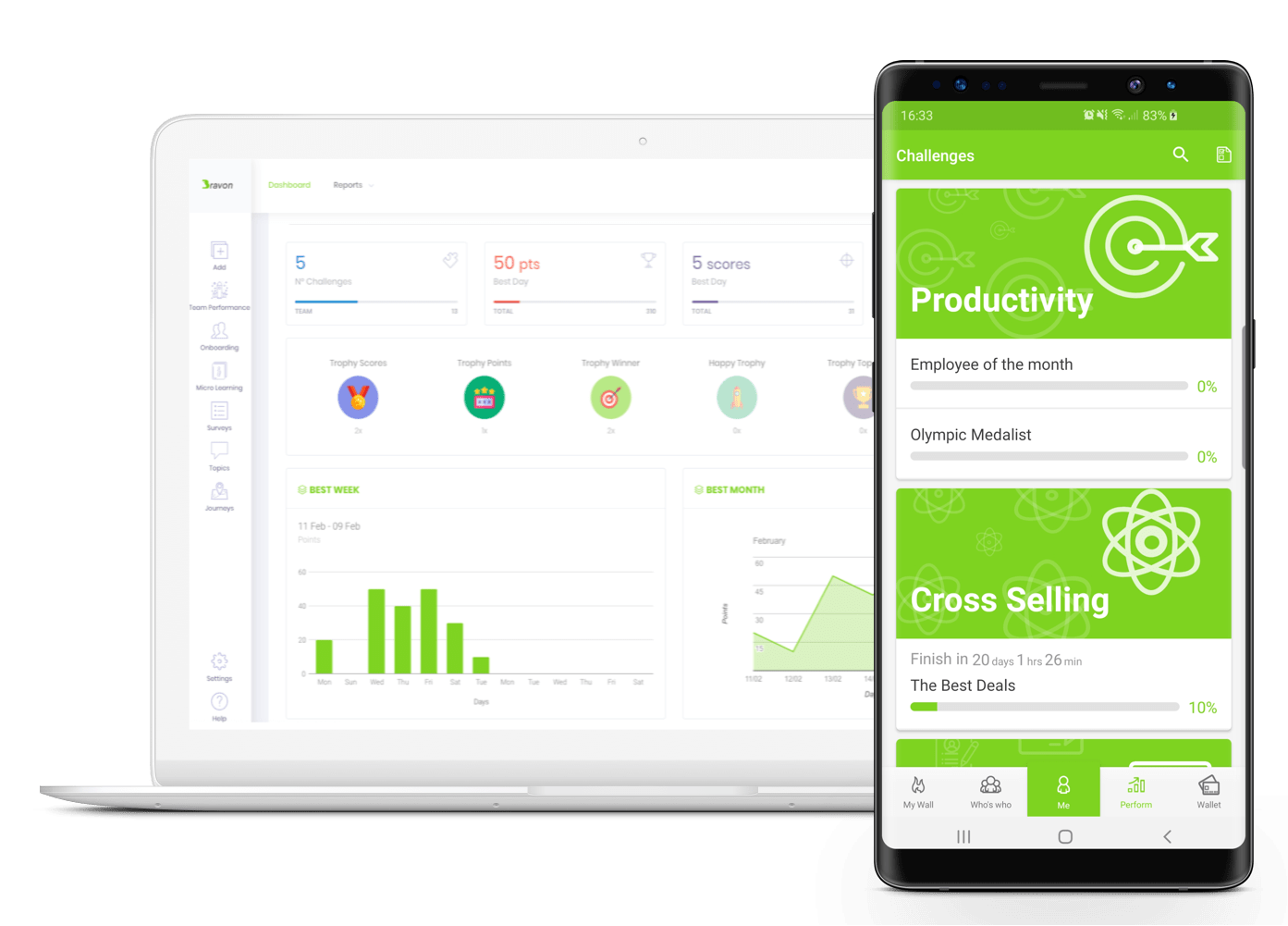 Best practices
Unlock your user's potential.
Bravon is a powerful tool to engage your customers, employees, learners
How Bravon Boost Performance?

Applying game mechanics to sales or technical tasks to motivate and engage teams, drive high performance, increase competition, and improve more positive behaviour. Get your workforce motivated to excel.
 Set personalized groups goals with real-time tracking and achievements recognition.
Implement a Rewarding strategy and manage them into a centralize virtual wallet
Define your own journeys to involve users, customers, employees according to their expectations and your goals.
Create challenges inside users groups to activate the positive peer effect
Bravon Is The Right Choice!
Our Value Proposition


Solutions
Bravon is a Software As a Service solution providing an All-In-One gamification platform that you can use in few minutes.


Services
We provide a wide range of services to improve the effectiveness of the platform implementation.


Programs
Our shared services allows you to focus on your business and delegate the day-to-day engagement activities to our experts.


Local
Our group of partners allow us to have a local team next to you to support you in everything.
Case studies
Proud projects that make us stand out
Resources
Get a copy of brochure on Bravon

Testimonials
Why do people praise about Bravon?
François Jeunesse
Mobilu sells Digitizing & Robotization solutions to companies for more than 10 years now, and we saw on Bravon a complementary product to offer to our clients. After trying it for ourselves with success, we decided to go forward with the Franchise. 100% recommend!

Franz Renson
Investing in Bravon Franchise was an opportunity to develop our business and to enter in a new industry! As we were new in this industry Bravon supported us during all processes.

Franz Renson
Renson & Associates
Abdelhay Toudma
We wanted a platform providing a clean, fast, easy way to do so without having to develop the product from scratch. Arendt uses Bravon to deliver a completely different, unique solution taking advantage of the already built gamification elements.


Maggie Henriques
" I had no idea gamification had this kind of power. The company loves it, and the clients can tell!"


Maggie Henriques
APPERITIVO
Kamel Amroune
"Using Bravon was a complete game changer for my business. My club members are so engaged since we are using such a platform!"


Kamel Amroune
CEO, Farvest